More News
Let the ToonFest 2020 Code Giveaways Begin!
Posted by The Toontown Team on October 10, 2021 at 3:00 PM
Aaaah, isn't this weather just spectacular? With Cartoonival going strong and the sun shining all day long, who doesn't want to just kick back and relax with a nice pair of ToonFest sunglasses on? We know we certainly do! That's when a thought struck us: why not give away some of these shades to the community? And what better way to share those with you all than to host a ToonFest 2020 Code Giveaway!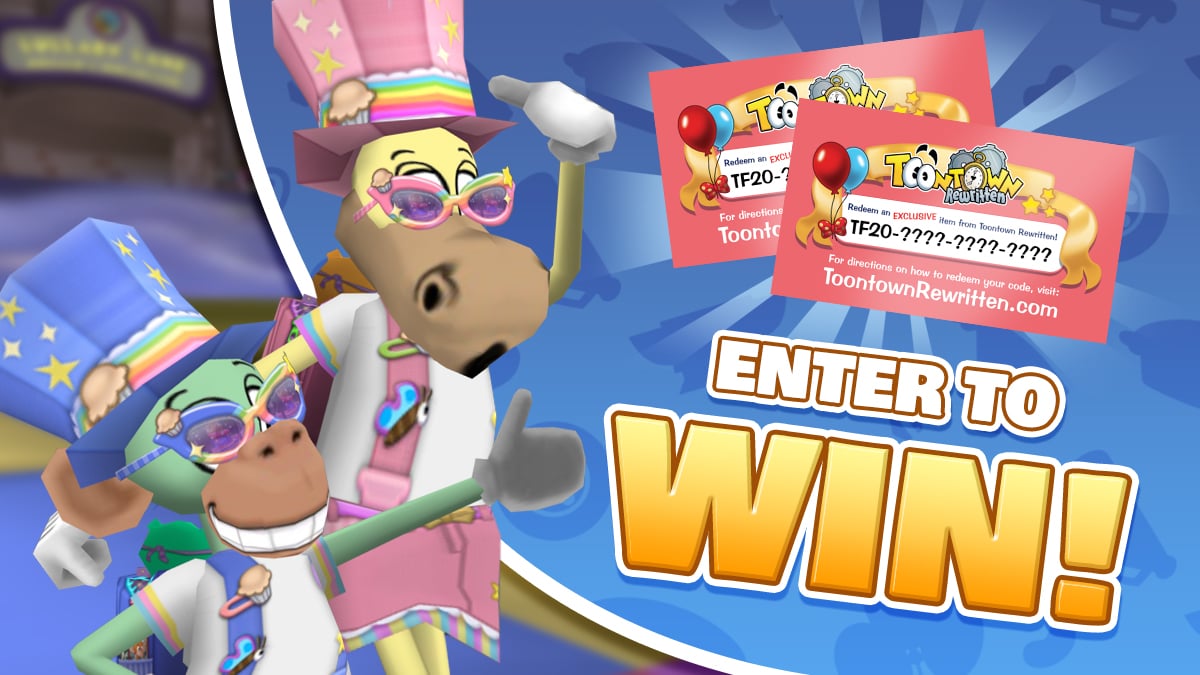 You may now be asking yourself: "What kind of giveaway will you be hosting, Toontown Team?" Well dear Toon, we have the answer for you! From now until October 24th, we will be hosting a costume contest! Throw together your silliest, wackiest, most Tooniest outfit you can and send us a photo submission to automatically be entered! We have 3 different categories to choose from, and 10 winners will be picked from each one! The categories are as follows: Fanciest Fashion, Super Silly Style, and Cartoonival Clothing! All submissions for this giveaway will be done via email, but please feel free to show off your Toontown swag online as well! Once all submissions are in, we will randomly pick the winners from each category and announce them in a follow-up blog post!
---
Guidelines for the Giveaway
From now until October 24th, email us at support@toontownrewritten.com with a photo of your costume and all your account usernames to be automatically entered into the giveaway!
Title your email "ToonFest 2020 Code Giveaway Submission" and specify which category or categories you are entering.
Only 1 submission per person per category. We want everyone to have a fair shot!
We have 30 codes to give away, which means 30 winners -- 10 from each category!
Although we ask for all of your accounts, the code you win will only work on one account -- so choose wisely when redeeming! Every Toon on that account will be able to redeem the code.
Winners will be randomly picked and announced in a follow-up blog post after the final submission date!
Be as creative as you want!
Note: If you are found to have multiple submissions within one category, Toontown Rewritten reserves the right to revoke your prize at our discretion. Play fair, folks!
---
We're ecstatic about seeing everyone's outfits -- so put your best foot forward! Go out there and make the best outfit you can, Toons! We look forward to announcing the winners soon, so stay TOONed to find out who will win!
---
Comments
Sorry! Comments are closed.
---
---
---
---
---
---
---
---
---
---
---
---
---
---
---
---
---
---
---
---
---
---
---
---
---
Back To Top