More News
Partner Spotlight: The Soundless Cult
Posted by The Toontown Team on December 8, 2020 at 2:00 PM
Are you ready to use gag combinations that don't consist of fog horns and elephant trunks? Are you just sick and tired of audio? Sorry, Mac. Are you ready to go back to a classic era of cartoons, where Toons never even made a peep!? Well, too bad -- that last one's not possible! Luckily, what is possible is joining The Soundless Cult!
The Soundless Cult is a dedicated group of over five hundred members who play Toontown without the Sound gag track! This group makes teaming up with Toons of all kinds, soundless or not, a breeze. Today, we met up to ask all the questions we bet you're wondering too.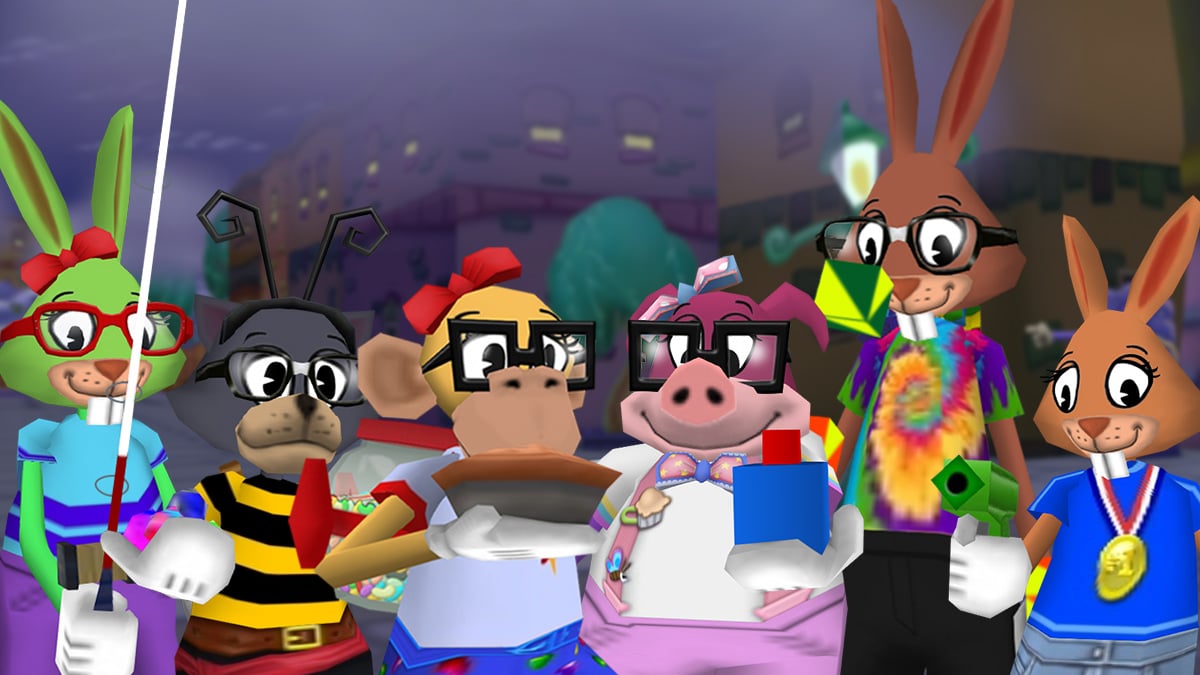 First and foremost, what's the best part about being a soundless Toon?
Our favorite part of being a soundless Toon is the way it makes you play differently. Being soundless is a unique experience because it teaches you how to use the other gags and how to take out the cogs in many ways, instead of just the basic 'two fogs takes out 11s!' You have to think about different gag combinations with and without Sound!
What a great answer! They've sure got us hooked, which makes us wonder how we can participate too. Where do The Soundless Cult's weekly runs take place, and what can attending Toons expect?
On Mondays we do a V.P. followed by a C.E.O., and on Fridays we do a C.F.O. followed by a C.J., starting at 9 PM ET! On Thursdays, we do a marathon of one of the bosses, voted on by the members! If you're 13 and up, you can join us on Discord at toon.town/soundless for specifics! All our runs are held in Splashport, with Thwackville as the backup district.
That sure sounds like fun, but there's a slight problem. My Toon has the Sound Track! Am I still allowed to participate? Better yet, can I bring my Sound Gags with me?
All Toons are welcome at our runs! We love having new people attend, soundless or not! And for most of our runs, Sound is actually allowed! We do special no-sound-allowed runs, but during those runs, Sound Toons can simply delete their Sound gags and join us anyway.
All jokes and gags aside, there's one final, super-duper important question left to ask: What does the Soundless Cult think of Minnie's Melodyland? After all, it's a playground full of sound!
We like the pianos but could do without the bugles! Just kidding (mostly)! We like to work in harmony with Toons who have Sound! Soundless and all the other gag-less toons make great teams; there's a time and a place for every gag to be used. We hope the Toons that picked Sound agree with us, but if not, we'll just hide away in Donald's Dreamland where it's peaceful and quiet and far away from Cleff!
A Toontastic response! For anyone looking to tag along in their runs, you can check out the previously mentioned schedule. Plus, for anyone 13 and up, feel free to join The Soundless Cult on Discord. To The Soundless Cult, thanks for all you do to make Toontown a fun place for all Toons, no matter which Gag Track they choose to go without. And to the Toons reading, we hope to see you at The Soundless Cult's next run!
Join The Soundless Cult on Discord
---

Disclaimer
Discord's Terms of Service require you to be at least 13 years of age and the minimum age of digital consent in your country to use their platform. Toontown Rewritten is not responsible for this Discord server nor for Discord as a platform. Furthermore, Toontown Rewritten has no control over what content is posted or shared. As this Discord server is run by a Toontown Rewritten Community Partner, though, we can ensure that any content in this server is PG-13.
---
Comments
Sorry! Comments are closed.
---
---
---
---
---
---
---
---
---
---
---
---
---
Back To Top