More News
The Thanksgiving "Thank-You"
Posted by Sir Max on November 24, 2016 at 3:00 PM
Settle down kids, settle down! I'd like to interrupt this Thanksgiving feast with a toast -- buttered toast, that is. Along with popcorn and jellybeans,
mmm.
You just can't go wrong with those Thanksgiving classics. But I digress...
The real reason I'm here today is to remind you of just how much we have to be thankful for!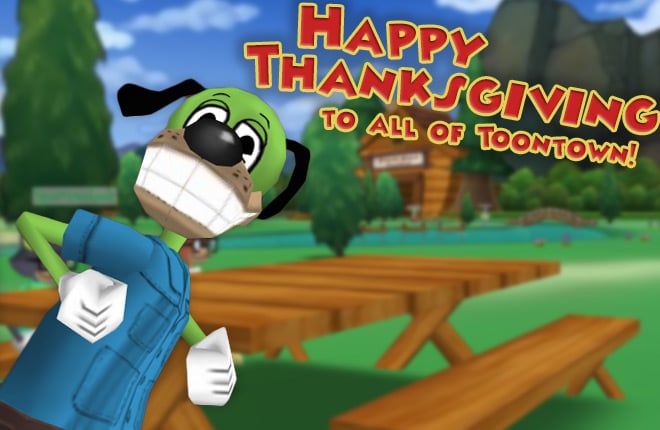 It's been almost
three and a half years
since Toontown Online closed its doors -- but thanks to the incredible community of Toons, the game is still miraculously running today with an incredible amount of players! Talk about something to be thankful for.
On this day, though, we like to take the time to thank Disney Online and the original developers of Toontown, who are the only reason we're here today. Without them there would be no Toontown to begin with, let alone a Rewritten one!
As you go through with your Thanksgiving "Thank-Yous", consider sending a Tweet, email, or even just a comment on our blog to the many current and past people who have spent time making Toontown great. The developers from Disney, especially!
It's the little things that go a long way, and who knows, your small "thank you" may just make someone's day.
Happy Thanksgiving from everyone on the Toon Council!
---
Comments
Sorry! Comments are closed.
---
---
---
---
---
---
---
---
---
---
---
---
---
---
---
---
---
---
---
---
---
---
---
---
---
---
---
---
---
---
---
---
---
---
---
---
---
---
---
---
---
---
---
---
---
---
---
---
---
---
---
---
---
---
---
---
---
---
---
---
---
---
---
---
---
---
---
---
---
---
---
---
---
---
---
---
---
---
---
---
---
---
---
---
---
---
---
---
---
---
---
---
---
---
---
---
---
---
---
---
---
---
---
---
---
---
---
---
---
---
---
---
---
---
---
---
---
---
---
---
---
Back To Top