More News
Flip for Flippy: Keys with Kindness
Posted by Flippy on March 4, 2014 at 2:00 PM
Howdy do! I really didn't expect to be here again -- At least, not before the election!
Just like Slappy said on Sunday, this exciting election extension has gotten me really ecstatic. Not only do we get to see more from Alec Tinn on those Toontastic events he has planned, but we also get the honor of saying "congrats!" to those of you who earn these crazy keys!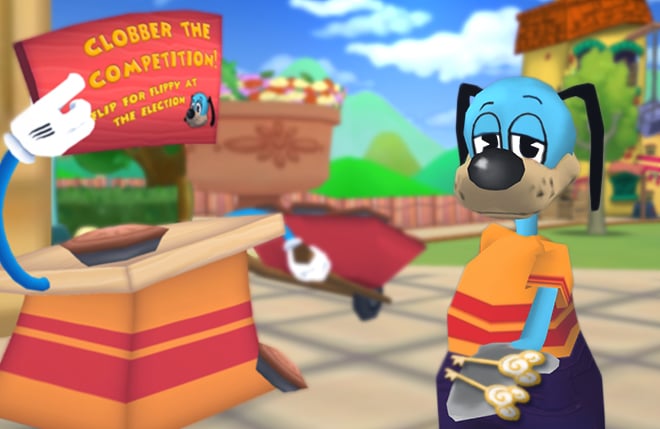 I've got my portable hole pulled out here with the ballot of voters on the other end, ready to pick the players! Don't worry, I won't look who you voted for. (Besides, we all know who it was.) With a quick draw, a little rummaging around, and a pull of the paper, the next key winners are none other than...
Baron JC
and
Brady
! Our virtual voter knows them better as voters #1431 and #6214. Who cares about the stats, though?
Both of you, be sure to check your mail for the key sometime soon for the key -- and don't forget to stop by Toontown Central to see me! I've finished my pie baking, so for the duration of the election I'll be standing out by my stand to have a chat with whoever wants to. Maybe we'll even generate some of that sillyness that Surlee was talking about!
Thanks for keeping up with my Clobbering Cream Pie Campaign, and if you haven't already --
Flip for Flippy at the election
!
March 4, 2014 [ttr-alpha-g2c1105a]
Bugfixes:
• Fix an old bug where Shopkeeper toons would only play a sound on their first phrase during cutscenes.

Features:
• Flippy has taken up his free time to camp out in Toontown Central and talk with all of you! Head on over to his stand and use the SpeedChat to talk to him.

---
Comments
Sorry! Comments are closed.
---
---
---
---
---
---
---
---
---
---
---
---
---
---
---
---
---
---
---
---
---
---
---
---
---
---
---
---
---
---
---
---
---
---
---
---
---
---
---
---
---
---
---
---
---
---
---
---
---
---
---
---
---
---
---
---
---
---
---
---
---
---
---
---
---
---
---
---
---
---
---
---
---
---
---
---
---
---
---
---
---
---
---
---
---
---
---
---
---
---
---
---
---
---
---
---
---
---
---
---
---
---
---
---
---
---
---
---
---
---
---
---
---
---
---
---
---
---
---
---
---
---
---
---
---
---
---
---
---
---
Back To Top