More News
Toontown RewritTEN: 10 Toontastic Years!
Posted by The Toontown Team on September 19, 2023 at 11:57 AM
Toontown Rewritten is a "Community Server" for Disney's Toontown Online. A team of skilled Toons, including myself, have spent the past ten years engineering our own implementation of the Toontown server architecture so that this game can continue. These are not a bunch of empty promises, nor a remake of Toontown Online. This is the exact same game that we have all known and loved for two decades now; however, this time, it is being run by Toons, for Toons.
Ten years ago, on this day, at this hour, at this minute, I typed a very similar paragraph on Toontown Central Forums to introduce Toontown Rewritten to the world. Disney had just closed the doors of Toontown Online, and before any tears could be shed, our team was racing to announce the good news as quickly as possible: Toontown was being rewritten.

Now, I'm back to announce even better news that we could have never dreamed of back then: Today officially kicks off Toontown RewritTEN: The 10-Year Anniversary of Toontown Rewritten!
My name is Joey Ziolkowski, and one of the greatest joys of my life has been serving as Creative Director of Toontown Rewritten for the past ten years. People often thank us for saving Toontown, but that wasn't us... It was all of you.
Your kindness, resilience, friendships, humor, and joy are what keeps Toontown going every day. Instead of looking back on this date as a dark one, we look back and celebrate. Let me be clear: YOU saved Toontown!
Here are just a few of the wonderful ways Toontown Rewritten is thriving thanks to all of you who help us keep the Toontown community alive:

Nearly 2.5 million

registered accounts

Over 60,000 unique monthly players on average

Developed 11 new expansions to bring new life to Toontown
Hosted 6 real-world ToonFest events with hundreds of attendees

Population of 4,436,670 Toons (and counting!)
We can't thank you enough for these 10 Toontastic years. However, we've been cooking up a small new update to express our gratitude!
---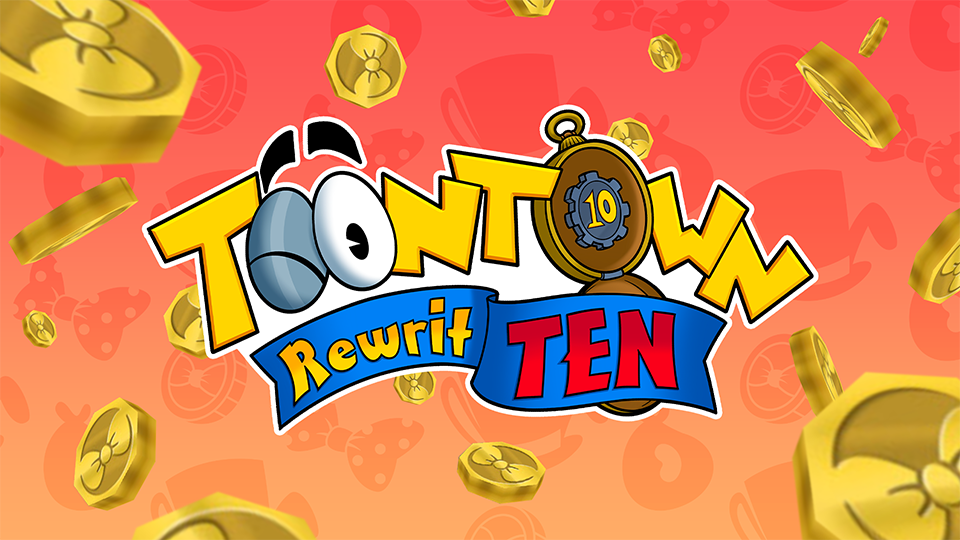 The Cartoonival Grounds are officially open, and we're upgrading the event this year in celebration of Toontown RewritTEN with some new bells and whistles! Head over to Acorn Acres and enter the Event Grounds Tunnel to find a whole slew of activities and prizes available from now until October 20.

---
Meet Riggy Marole
"Who's Riggy Marole?" Well, describing Riggy is no easy feat. He's the host with the most, and he ain't afraid to boast! He's a rabbit with a habit for vanity and just plain insanity! He's also got a few screws loose. But the point is, Riggy Marole is the one-and-only host of Toontown's Cartoonival!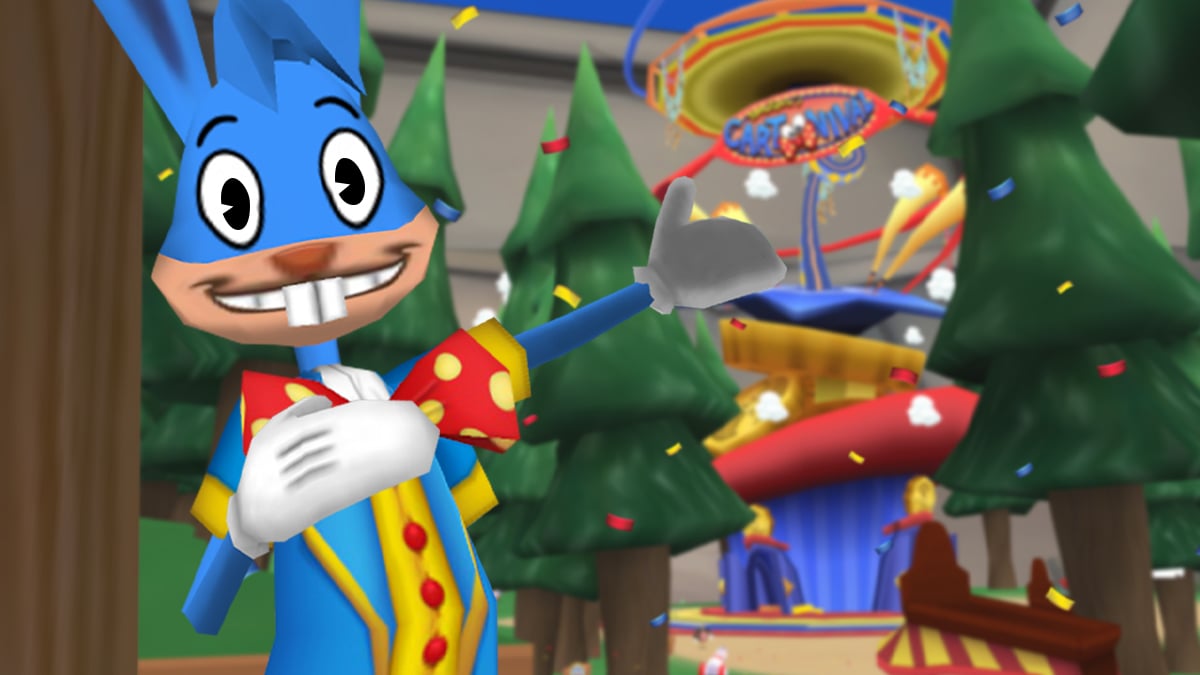 ---
Play Cartoonival Games
In the Event Grounds, you'll find all sorts of fun games to earn Cartoonival Tokens! Of course, there's the standard Toontown fare like fishing, trampolines, and cannons. Plus, you may have hit targets with a water sprayer before at a regular ol' carnival, but have you ever tried hitting them with cakes? You can even head over to the Duck Tank to throw a taste of sweet revenge at Cleff for his dreaded ToonTask!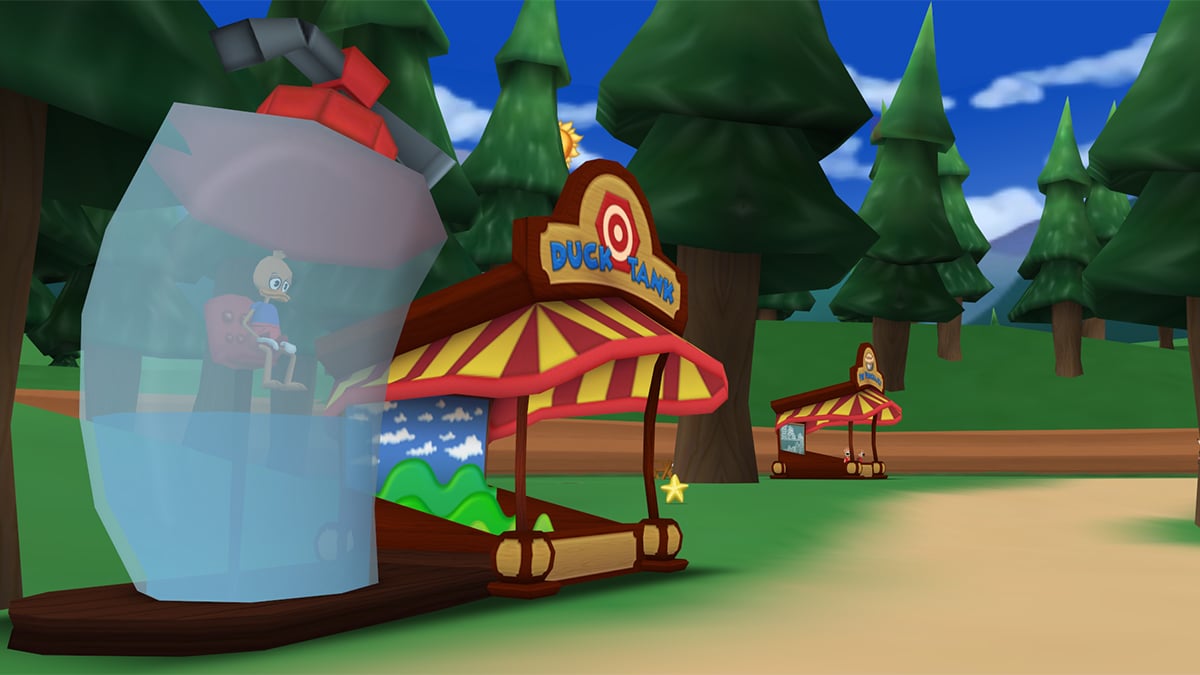 ---
Earn Exclusive Prizes
After playing games, bring those Cartoonival Tokens over to any of the Token Takers around the grounds, and you can collect exclusive prizes such as clothing, accessories, furniture, and even Merry Multipliers to increase your XP bonus! This year, the Toon Tailors have been hard at work to introduce dozens of new clothing items and accessories in celebration of the anniversary! Check out a few of the new items below: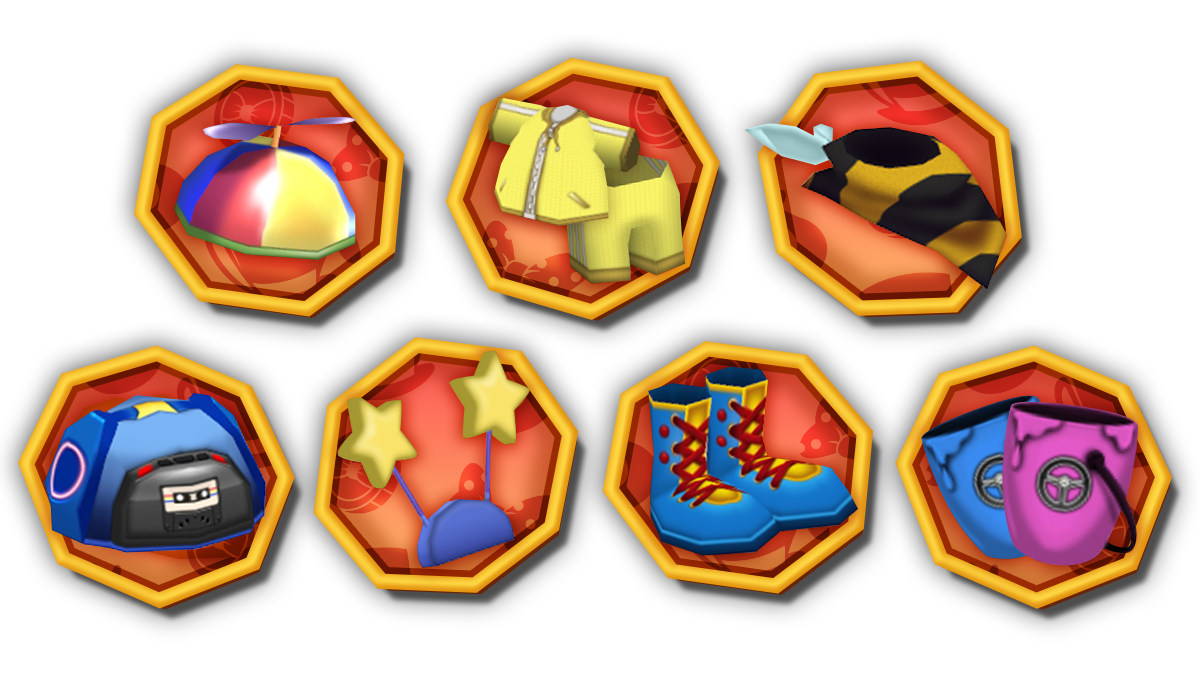 Plus, you can enter the code toontastic-ten in your Shticker Book to redeem a limited-edition Toontown RewritTEN shirt and party hat available only this year!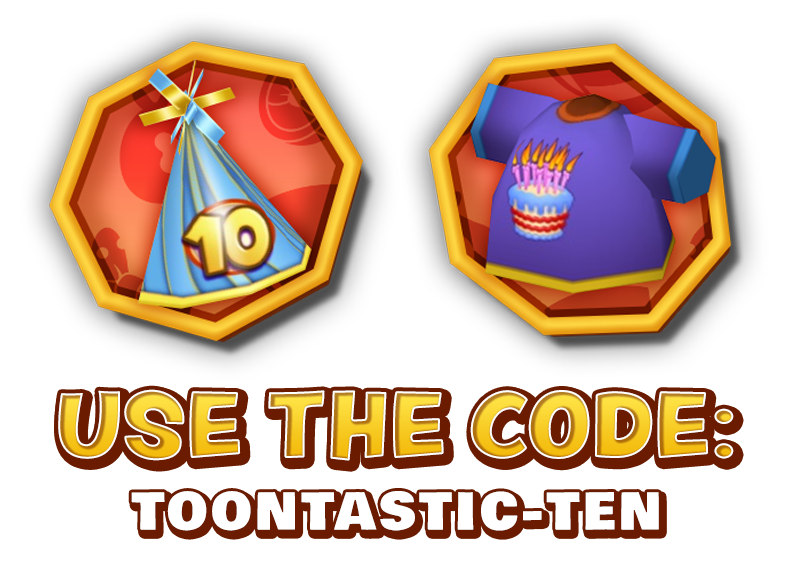 ---
...and MORE!
To keep the Cartoonival craze continuing, Riggy Marole will be back on the blog throughout Toontown's Cartoonival to reveal more new content coming to this year's event -- including a new way to earn Tokens based on a popular request, a new activity to celebrate 10 years of Toontown, and community events that you won't want to miss. Stay TOONed!
Once again, we can't thank you enough for TEN YEARS of Toontown Rewritten. You've brought us so much laughter and love over the years, and we can only hope that we've been able to give the same back to you with the work we pour into this game.
Toons of the world, UNITE!
---
September 19, 2023 [ttr-live-v3.9.0]
Cartoonival
• Toontown's Cartoonival is BACK, celebrating Toontown RewritTEN, our 10-year anniversary!
• Brand-new items are available in the Cartoonival Tower! Grab your friends, earn some tokens, and spend them on some TOONTASTIC goodies!
• Refreshed Riggy's dialogue. That hare just can't stop talking!
• Consolidated similar item types to save space in the Token Taker interface.
• Made preparations for future Cartoonival additions. Stay TOONed!

Miscellaneous
• You can now view your own Toon Detail Panel! Just click on your Laff Meter at the bottom-left corner of the screen.
• Fixed a crash on Windows when running multiple Toons at the same time.

---
Comments
Sorry! Comments are closed.
---
---
---
---
---
---
---
---
---
---
---
---
---
---
---
---
---
---
---
---
---
---
---
---
---
---
---
---
---
---
---
---
---
---
---
---
---
---
---
---
---
---
---
---
---
---
---
---
---
---
---
---
---
---
---
---
Back To Top