More News
Partner Spotlight: Maxuhmillion
Posted by The Toontown Team on January 14, 2021 at 2:00 PM
Maxuhmillion isn't just any ol' blue bear -- he's a member of the Toontown Rewritten Partner Program! As a Content Creator, Max strives to entertain Toons by interacting with them in-game and streaming on Twitch for others to follow along. Today, we're here to interview him on what it's like being a Toontown Rewritten streamer and a part of our Partner Program. You won't be disappointed by his answers!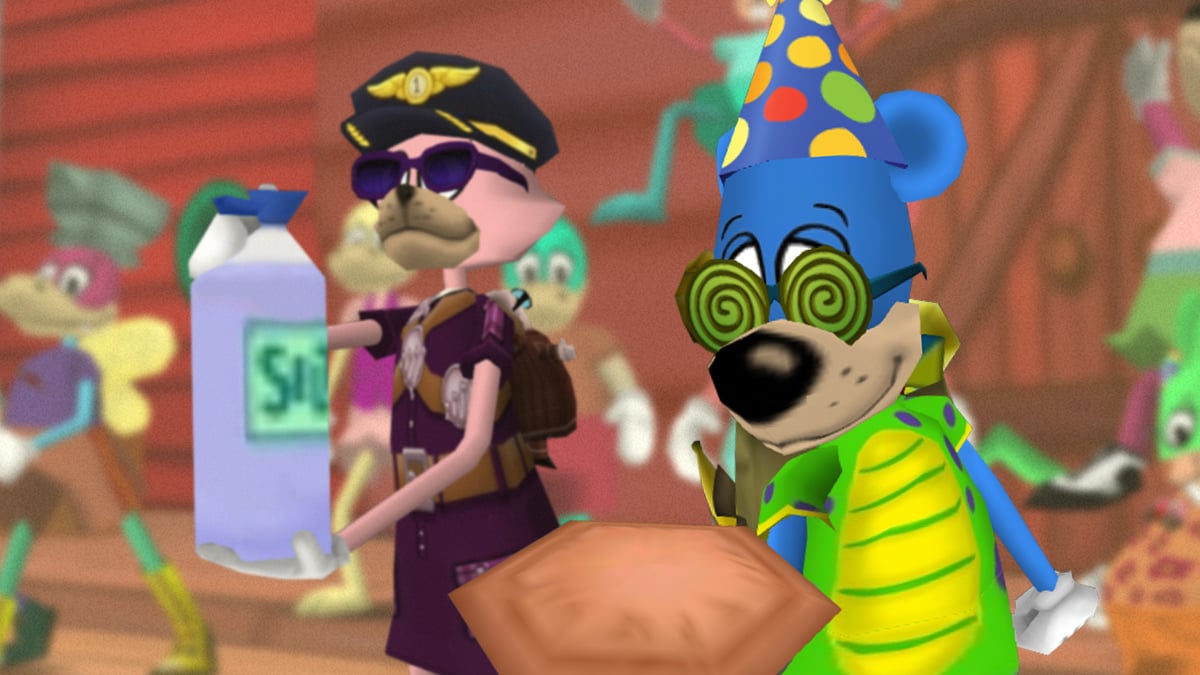 First off, we'd love to hear one of your favorite parts about being a Toontown Rewritten streamer. Don't hesitate to tell a fun memory or two you have from streaming!
My favorite part about being a Toontown Rewritten streamer would have to be how many opportunities I have to meet new people! Toontown was a huge part of my childhood and continues to be today, and getting to share that fun with others makes it even more enjoyable. A fond memory I have from streaming would have to be when I got the chance to stream on the Toontown Rewritten channel during Cartoonival this past year. It was a dream come true, and I was able to play and have fun with so many others.
Ah, Cartoonival! It sure was fun enjoying all the Toony celebrations and meeting up with fellow Toontown-lovers in-game. But if you don't remember Maxuhmillion from his Toonerrific Cartoonival livestreams on Twitch, perhaps you'll recall hearing about the charity livestream he held in the past. Let's have Max tell us a bit about that!
Something a few people know about me is that one of the reasons I started streaming was with the hopes that one day I could raise money for charity. Hosting the charity streams were both very successful and was very motivating to me personally. In August, I did a five day charity stream with a fellow Toontown Rewritten Partner Princess Sandy, who is also a great friend/moderator of mine. That was my first time doing a charity event, and it was better than I could have ever imagined. With the amazing support of the community, I was able to raise $625 for front-line health workers. I was beyond ecstatic, because we were able to raise way past our originally intended goal of $200. I certainly want to do more charity events in the future and see if we can reach an ever higher ceiling!
WOWZA! A major congratulations to Max for surpassing his original fundraising goal by over TRIPLE what he was hoping for. Those of us on the Toontown Rewritten Team are seriously excited to see what he'll do next. Speaking of, let's see what he thinks of his experience of being a streamer and part of our Partner Program so far.
My experience as both a streamer and a Toontown Rewritten Partner has been such an amazing time. I am very thankful to the Toontown Rewritten team for giving me this chance and getting to know all of the staff and other communities is so much fun. Joining the program helped me get out of my shell and further develop friendships within the game that I may not have made otherwise. As for my stream I just would like to add that everyone is always welcome to join and I would love to get to know new people and if I get the chance to play with them in game!
Before he has to go, we want to ask Max one last "Just for Fun!" question. When you need help in a Cog battle, which S.O.S Toon or friend do you call for first?
The person I would call to my aid would have to be someone who I know and trust to have my back -- my girlfriend Princess Sandy. I've known her for a long time, and she is someone that I know I can rely on when needed most, so if I was stuck battling cogs she would be there to help in an instant. She supports me the most, and I always have a fun time playing with her so I know we would be able to turn the tables on any cogs!
Now that's a response even sweeter than cream pie! Well, Toons, that's all we've got for today, but be sure to keep a lookout on Twitch and in-game for Content Creator Maxuhmillion. See you around, Toons, and keep up the great Cog-defeating work!
---
Comments
Sorry! Comments are closed.
---
---
---
---
---
---
---
---
---
---
---
---
---
---
---
Back To Top